A brief history of Lacemaking.
The art of Lacemaking was brought to this country by the Huguenots fleeing from Belgium during the 16th century, although it is possible that making lace with 'bones' has been around a lot earlier than this. They settled in Devon (Honiton Lace) and the East Midlands, (mainly Buckinghamshire, Bedfordshire and Northamptonshire).
The most famous Buckinghamshire village was Olney. It was here that there was a Lace school for the Bucks Lace Industry. Children as young as 5 years old were learning to make lace with a view to earning a 'living' for the rest of their lives. Most of the lace made was Bucks Point. No lace maker ever made a complete piece of lace. They would learn one pattern by heart to sell to the dealer. Each pattern would later be joined to complete the piece of lace to become e.g. a flounce or shawl.
Bobbin lace is made on a pillow, usually filled with straw but nowadays can be made from polystyrene. Natural thread, such as cotton, linen or silk, is wound on to wooden or bone decorative 'sticks' called bobbins. The bobbins are weighted on the bottom with a circle of 5, 7, or 9 beads known as a spangle. This is to give tension to the thread. These are known as the East Midland bobbins.
A pattern is pricked on to a sheet of card with a needle fixed into a pin vice. The 'pricking is then attatched to the pillow. The thread is held in place with brass lace pins.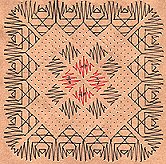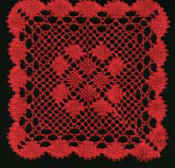 There are several types of lace made in this country, Torchon, Bucks Point, Bedfordshire and Honiton (the finest of the laces)examples of which are shown by following the links.
Antique Wooden and Bone bobbins
The cottage lace industry declined early in the 20th century with the introduction of machine made lace developing in Nottingham.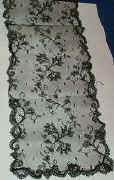 An example of machine made lace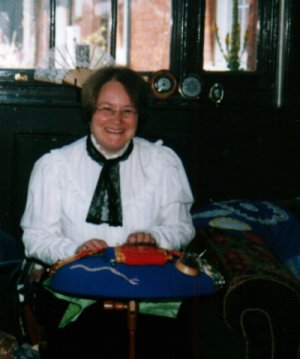 Demonstrating bobbin lace-making in the Victorian parlour
at
Milton Keynes Museum
McConnell Drive
Wolverton
Milton Keynes MK12 5EL

Telephone: 01908 316222
Email: enquiry@mkmuseum.org.uk
Website: www.mkmuseum.org.uk

Powered by RingSurf!